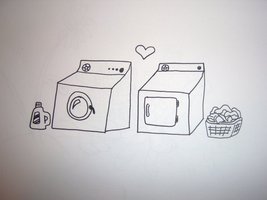 Washer and dryer, a need of every home. Everyone wants to have best washer and dryer for their home and in search for this. Everyone have their own needs and priorities which he is looking for. We discuss about the qualities a person can think that a washer and dryer should have and on this basis we review best washer and dryer and then you have choice to pick up the best according to your needs.
Qualities of Washer and dryer you should consider
Price
Budget is the first thing that every buyer consider. Mostly cost is between five hundred dollars to two thousand dollars where top loader washer and dryers cost less than the front loaders. Price is directly proportional to functionality, more money you spend more functionality and features you get in your machines. So buy wisely, don't spend more money to get features that you didn't need.
Efficiency
The second most important thing is efficiency which helps you in reducing your electricity bills and also less water consumption. In efficiency front loader washer and dryers are far ahead than top loaders. Efficient machines helps you to save much money in long term.
Capacity
The normal washing machine have capacity of 12-15 pounds which is enough for washing clothes and also cover less space and consume less electricity. But if you want to wash blankets and comforters than you may need large capacity washing machines.
Noise
Noise is another important factor to consider because it may disturb your family members. Front loader washer and dryer produce more noise due to high spinning speed but this high spinning speed let your clothes dry quickly. Now you have to decide you can bear noise or can spend more time to dry clothes.
Reliability
Your money worth's, so spend it sensibly and buy reliable machine instead of spending later on repairing.  In front loaders two companies are on top in reliability, No.1 is LG and No.2 is Samsung and in top loaders Roper and Kenmore are best companies.
Review of best washer and dryer
Top 5 washers
1. LG WM8000HVA
2. Samsung WF405ATPASU/AA
3. Kenmore 41100
4. Maytag MHW6000AW
5. Whirlpool WFW86HEBW
Top 5 dryers
1. LG DLE1101W
2. Samsung DV50F9A6EVW
3. Kenmore 81572
4. Maytag MEDB950YW
5. Whirlpool WED86HEBW