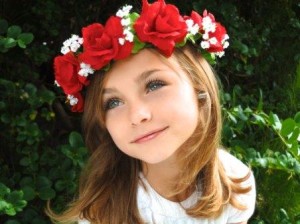 Flowers not only enhances the beauty of a garden but it also can enhance your beauty when you make a flower crown from these and wear it in hairs. Flower crowns could be wore at different occasions such as music concerts, parties, Christmas, on valentine's day and its perfect choice for weddings. It's cheap to make a beautiful accessory like flower crown and now you are eager to know how to make it so here are the step by step instructions.
How to make a flower crown step by step
Things you will need
Real Flowers or Fake flowers ( whichever you like )
A wire ( or you can instead use a ribbon or headband )
Pliers
Measure tape
Glue gun
Steps for making a flower crown
Step 1: First thing you need a base for flowers. You can make it with a wire by making circle of it or instead you can use a ribbon and headband and affix flowers on it with glue. We use a garden wire. So take a thick garden wire or otherwise you have to use two thin wires.
If you use a ribbon or headband then just cut the flower stalks and affix them with glue gun on headband.
Step 2: Now cut the wire of about 65 to 70 cm long. Now wrap this wire around your head where you want to place crown and twist it from back to make a circle.
Step 3: When you twist the wire there may be a sharp end which you have to cut with the pliers so it shouldn't hurt you.
Step 4: Its time to take flowers of your own choice and colours and arrange them on wire. For this take thin wire, make small pieces of it and then wrap it around the stalk of  flowers. And then arrange them on circular wire according to your wish.
It's so simple to make a flower crown yourself. It will not take your much time but save a lot of bucks for you.