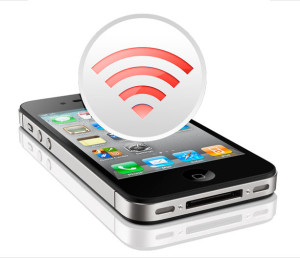 How to make or turn your iPhone into a WiFi hotspot.
Do you have an iPhone? Then you can use your iPhone as a WiFi hotspot if you stuck in a situation where you want to connect some other device or laptop to internet urgently. But this feature is not available in all iOS so you can use hotspot feature only if you are using iOS 4.3 or greater. To use this feature either you have to pay to your service provider or you can jailbreak your iPhone. It all depends on you which method you prefer.
How to Make or Turn your iPhone into a WiFi Hotspot
Activating personal hotspot is very easy in iOS 7 but for iOS 6 and previous versions it takes some extra steps for setting up hotspot. Here is a step by step guide to make or turn your iPhone into a WiFi hotspot for both iOS 7 and iOS 6 or lower.
Setting up hotspot in iOS 6 or lower
First go to General -> Network and here you see option of Set Up Personal Hotspot. Tap this set up button and it will guide you to enable this service by contacting your service provider if you already didn't enabled it.
Once you enabled the personal hotspot service then you are ready to use it straight away. Just go to Settings -> Network -> Personal Hotspot and slide the slider of personal hotspot to on.
When you on personal hot spot it will give you option whether you want to use hotspot for WiFi and Bluetooth. Click on it to use WiFi hotspot.
Now when you are done with activating hotspot. You can set a password for WiFi which other devices use to connect with you. This option is in Personal Hotspot.
Setting up hotspot in iOS 7
For iOS 7 you don't need the first step which i tell you above. But instead just directly go in Settings -> Personal Hotspot and enable personal hotspot.
Remaining is the same as Step 3 and Step 4 discuss above.
Hope you now have learned how to make or turn your iPhone into a WiFi hotspot. If you like it don't forget to share and also you can discuss more in comments.
To learn more explore HowHut.